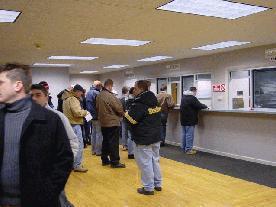 The office connects with the lanes where you can get your Bidder Badge for the evening, discuss particulars of a vehicle with staff, and/or other dealers, get your questions answered, pay Buyer and Seller Fees, turn in, or pick up titles, receive checks and make arrangements for future sales. The lease/repo department operates from here, as well. At the fleet/lease company`s request, we arrange prompt pick up of designated vehicles, prepare them as directed for auction, and when asked, assist in determining the floor price, and compile and forward all pertinent documentation after the sale.
Additional accommodations:
An ever changing menu of home cooking in our newly remodeled restaurant offers a variety of full meals, side dishes, desserts, and hot and cold drinks.
A convenient checkroom to leave your brief cases, coats, or other items, during the sale, and pick them up anytime throughout the evening.