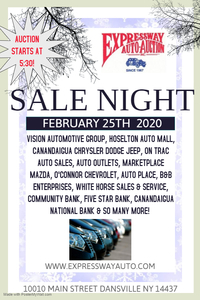 Announcements
Welcome to our Wholesale Auction! This Website is not for public use, but is designed exclusively for Registered Car Dealers, Fleet/Lease Companies, and Lending Institutions with repossessions. We belong to all the appropriate national auction organizations validating our unique ability to move your vehicles; NAAA, PIADA and NYIADA to name a few. We have the vehicles you`re looking for and our complete range of wholesale auction services also enable us to provide for your standard and special needs, making us your wholesale auction of choice. It`s all here! Look around our site. If you don`t see what you need, have any suggestions or comments, please call, fax, e-mail or come by. Sale night is every Tuesday evening at 5:30 PM. We`ll take good care of you!

TO VIEW UPCOMING SALE INVENTORY -ENTER YOUR USERNAME & PASSWORD IN THE USER LOGIN ABOVE OR CLICK SIGN UP NOW.
TUESDAY, FEBRUARY 25TH AT 5:30PM
Consignments from the top Dealers around!
WE HOPE TO SEE YOU ALL THERE!!
CAN'T MAKE IT TO THE SALE??....BE SURE TO CHECK US OUT @ EDGEPIPELINE.COM
**IF YOU BUY A GREEN LIGHT VEHICLE ONLINE BE SURE TO CALL IN THE NIGHT OF THE SALE IF YOU WISH TO HAVE A POST SALE INSPECTION RIGHT AFTER YOU PURCHASE THE VEHICLE**