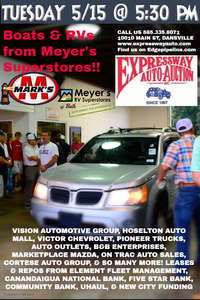 Announcements
Welcome to our Wholesale Auction! This Website is not for public use, but is designed exclusively for Registered Car Dealers, Fleet/Lease Companies, and Lending Institutions with repossessions. We belong to all the appropriate national auction organizations validating our unique ability to move your vehicles; NAAA, PIADA and NYIADA to name a few. We have the vehicles you`re looking for and our complete range of wholesale auction services also enable us to provide for your standard and special needs, making us your wholesale auction of choice. It`s all here! Look around our site. If you don`t see what you need, have any suggestions or comments, please call, fax, e-mail or come by. Sale night is every Tuesday evening at 5:30 PM. We`ll take good care of you!

TO VIEW UPCOMING SALE INVENTORY -ENTER YOUR USERNAME & PASSWORD IN THE USER LOGIN ABOVE OR CLICK SIGN UP NOW.
TUESDAY MAY 15TH, 2018 - CARS, TRUCKS, SUVS, LEASES & REPOS
FROM THE TOP DEALERS AROUND...HOSELTON AUTO MALL, THE VISION AUTOMOTIVE GROUP, BOB JOHNSON AUTO GROUP, MARINA AUTO GROUP, ON TRAC AUTO SALES, AUTO OUTLETS, MARKETPLACE MAZDA, O'CONNOR CHEVROLET, GENESEE VALLEY MOTORS, ELEMENT FLEET MANAGEMENT, FIVE STAR BANK, FRONTIER COMMUNICATIONS, COMMUNITY BANK, CANANDAIGUA NATIONAL BANK, UHAUL AND SO MANY MORE!!!
WE'D LIKE TO EXTEND A WARM WELCOME TO HARTWAY MOTORS!!
Sale starts at 5:30pm Sharp!
CAN'T MAKE IT TO THE SALE??....BE SURE TO CHECK US OUT @ EDGEPIPELINE.COM